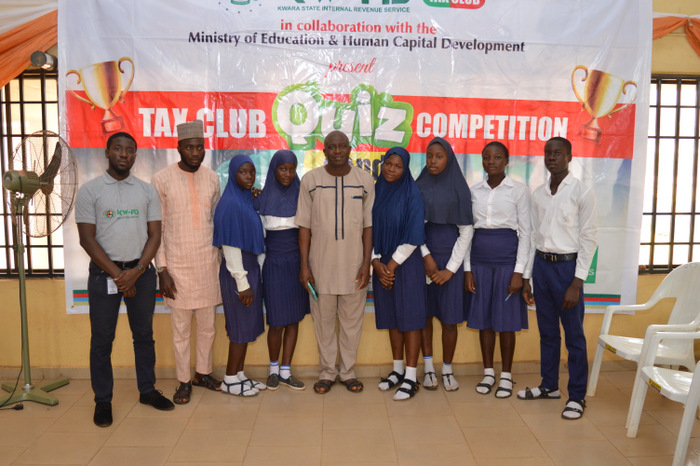 The Kwara State Internal Revenue Service (KW-IRS) in collaboration with the Ministry of Education and Human Capital Development has just concluded the Quarter Final Stage of the 2017 2nd Annual Tax Club Quiz Competition (TCQC) for Senior Secondary Schools in Kwara State. As the journey ends for sixteen (16) schools, the battle continues for eighteen (18) other schools who qualify to continue on in the hope of winning the One Million Naira (N1,000,000) Prize for the Best School.
The Competition which commenced on 18th October 2017 began with schools that qualified from the Kwara Central Senatorial District at the Queen Elizabeth School Ilorin, on 19th October 2017 at Omupo Grammar School for schools that also qualified from Kwara South and ended on the 20th of October 2017 at Gbugbu Government Secondary Schools with schools from Kwara North Senatorial District.
Fifteen schools qualified into the quarter finals from Kwara Central, fourteen schools from Kwara South and seven schools from Kwara North. In a surprising turn of events, the winners of the 1st TCQC which took place in 2016, Omu-Aran Government Secondary School was knocked out in the Quarter Final Stage.
After the Quarter Final Stage, 6 secondary schools qualified from each of the three (3) Senatorial Districts, making a total of 18 schools who would compete at the Semi-Final Stage of the Competition. The date for the Semi-Final and Grand Finale of the 2017 TCQC will be communicated in due course.
Please find below the list of schools and their performance.
Kwara Central
| | | |
| --- | --- | --- |
| S/N | Name of School | Score |
| 1. | Muslim Model Secondary School, Sango | 47 |
| 2. | Government Girls Day Secondary School, Oko-Erin | 39 |
| 3. | Socrates College, Adeta | 28 |
| 4. | Ansar-uD Deen Secondary School, Ilorin | 25 |
| 5. | Government Secondary School, Ilorin | 24 |
| 6. | Queen Elizabeth School, Ilorin | 21 |
Kwara South

| | | |
| --- | --- | --- |
| S/N | Name of School | Score |
| 1. | Ansarul Islam Grammar School, Ijomu Oro | 29 |
| 2. | Oro Muslim High School, Oro | 27 |
| 3. | Idofian Grammar School, Idofian | 27 |
| 4. | Osi Central School, Osi | 20 |
| 5. | Omupo Anglican Grammar School, Omupo | 19 |
| 6. | Oro Grammar School, Oro | 19 |
Kwara North

| | | |
| --- | --- | --- |
| S/N | Name of School | Score |
| 1. | Shepherd Senior Secondary School, Lafiagi | 29 |
| 2. | Lafiagi Secondary School, Lafiagi | 27 |
| 3. | Government Day Secondary School, Kaiama | 24 |
| 4. | Government Unity Secondary School, Kaiama | 20 |
| 5. | Kinti Community Secondary School, Ganagagi | 14 |
| 6. | Government Senior Secondary School, Bacita | 13 |